Front-end Development Services
Join forces with a reliable front-end development partner to help you develop premium software solutions. With over 15 years of experience, our front-end developers will take ownership of your projects, using their long-term experience and expertise to go beyond solving a problem and deliver ground-breaking solutions that will drive your success.
Web development is what we do best, using the latest front-end development technologies. We've been helping our clients to create stable and sustainable web apps and websites for years, and, therefore, gain a whole heap of domain expertise.
Your vision. Our knowledge.
Our experienced front-end developers
can help you with:
JavaScript lies at the core of web development. To help build dynamic and responsive websites, our JavaScript developers are using the latest frameworks and libraries to find fast and elegant solutions to your trickiest problems.

Looking to create a highly customizable web application with an interactive user interface? Our JavaScript engineers specialized in React JS will create complex software fitted to your needs, including web browsers and mobile app user interfaces.

Node.js is a fast, lightweight and efficient development environment. If you are looking for reliable Node.js engineers to help you build premium and scalable server-side web applications.

Our Vue.js developers are here to help you build intuitive user interfaces and single-page applications.

Looking to build a featured-rich web application that can be easily scalable? With our team of hard-working and motivated Angular developers, we will focus our efforts on bringing your visions to life.

We are here to turn your design ideas into reality. Our skillful and creative Web UI developers are experts in creating responsive websites by using HTML, CSS and JavaScript.
Heads in the
world

. Hearts in the

code

.

If you can dream it, we can develop it. Our team of front-end developers is always up for a challenge, leveraging the best front-end development technologies and practices to create premium software solutions.

Get in touch
Content Management System Implementation
We are innovators, and not just problem-solvers. Our specialized front-end development team of over 100 developers have experience with a wide range of CMS systems to give you firepower when you need it.
The Benefits of Hiring a Front-End Development Team
Hiring the right vendor allows you to drastically cut down your operational costs of running a business. These include hiring, office and onboarding costs.
When you have a specialized front-end development partner by your side, you can accelerate the time your software products hit the market. This can help you boost your margin revenue, keep you ahead of the competition and grab bigger market share.
Sometimes you need a specific skill set to get the job done. Vendors that offer a large pool of services have a much broader pool of developers, which means you only get the best talents to help you build your vision.
Sometimes you need a specific skill set to get the job done. Vendors that offer a large pool of services have a much broader pool of developers, which means you only get the best talents to help you build your vision.
By working with a reliable vendor, you can focus on the things that matter, and let them do the heavy-lifting. Vendors such as Vega IT have reliable processes and quality control to allow you to avoid any additional risks of running a business.
Having a partner who has a deep understanding of your domain can be crucial to your business' success. With over 1500 successful projects, we've been helping clients from various industries achieve results for 15+ years.
How to Hire the Right Front-End Development Partner
Choosing the right partner to help you bring your ideas to life is a difficult challenge. Here is the list of the things you should have in mind before making your decision:
Create a short list of companies that offer front-end development services
Be sure to learn more about the tech stack and domain expertise related to your industry
Find out if they have supporting roles needed in the development lifecycle
Check their language proficiency and how it aligns with your company culture
Ask for case studies and references to learn more about the scope of projects they worked on
Negotiate pricing and terms of your contract
Book a call
Our Process
Get to know us, our work methodology and our company culture. We know that there's no "one-size-fits-all" solution when it comes to software development. This is why we want to learn more about your project's needs to match you with the right software developers from our 750+ professionals.
What We Have Done for Our Customers
We bring the brains and passion that drive digital-led progress. We have been helping our clients drive their success and growth for over 15 years. Your vision. Our passion. Let's go!
Our work
When to Hire a Front-End Development Team?
We've been creating custom software solutions for our clients for over 15 years, and during that time we have gathered a whole heap of domain expertise, which is just one of many reasons why clients trust us. They usually hire us:
When the time is right to extend their in-house team. This can happen during any stage of the project development when your team might need an additional pool of talent.
When they need a partner with deep and specific domain knowledge
When they need a self-managed engineering team. Building a premium software solution requires a team of experts, not just limited to engineers. With our team of product owners, project managers, scrum masters, WA and DevOps engineers, we got you covered.
When the finished project needs to be maintained and supported. We are here to make sure your products work smoothly by taking over maintenance and support, even when we were not the ones who developed it.
Unsere Stärke in Zahlen Kunden, die uns vertrauen
Technologies we mostly use
React
AngularJS
Vue.js
jQuery
HTML
CSS
SCSS
Node.js
Gulp
KnockoutJS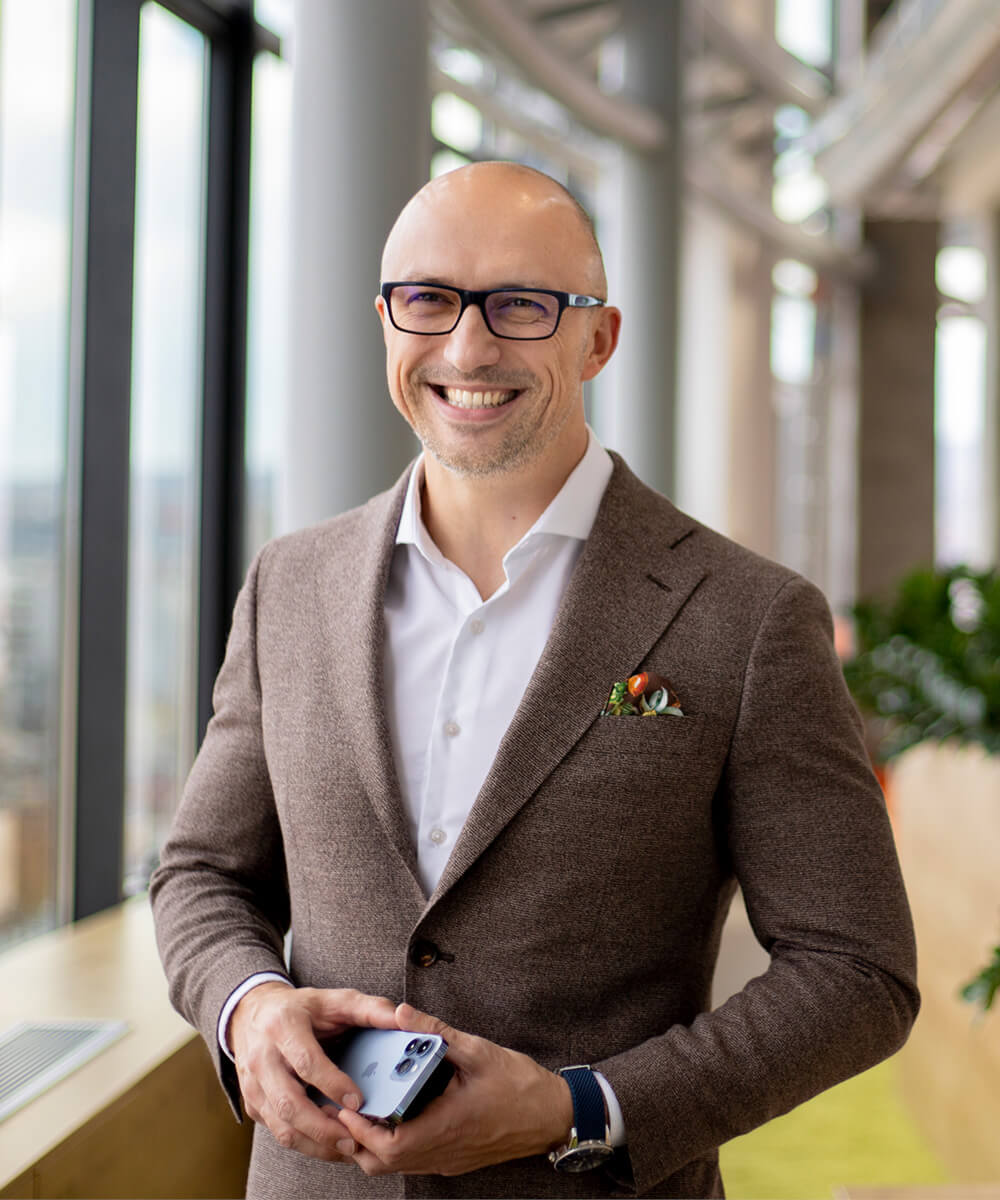 Saša gründete Vega IT vor 15 Jahren zusammen mit seinem ehemaligen Mitbewohner Vladan an der Universität. Ihr Traum, ein IT-Unternehmen zu gründen, hat sich zum führenden Softwareentwicklungsunternehmen mit mehr als 350 Entwicklern in Serbien entwickelt. Wenn Sie lieber eine E-Mail senden möchten, wenden Sie sich bitte an sasa.popovic@vegait.de.
Echte Menschen. Echte Profis.
VEREINBARE NOCH HEUTE EIN TELEFONAT.
Schicke uns deine Kontaktdaten und eine kurze Beschreibung deines Anliegens, und wir melden uns innerhalb von 12 Stunden bei dir.